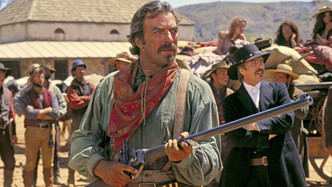 {Review FRENCH QUARTER NOCTURNE
for a chance to win this autographed photo!}
"…There was in him a vital sign of all:
As if the worst had fall'n which could befall,
He stood a stranger in this breathing world,

An erring spirit from another hurl'd;
A thing of dark imaginings, that shap'd
By choice the perils he by chance escap'd;

But 'scap'd in vain, for in their memory yet
His mind would half exult and half regret…."
'Mad, bad, mad and dangerous to know' were the words Lady Caroline Lamb wrote in her diary to describe her eventual lover, Lord Byron, after she met him for the first time in 1812.
Since then, the phrase has come to be associated not only with the poet as an individual, but with the kind of hero his life and fiction combined to create:
the Byronic hero.
He can be regarded as a rebellious yet charismatic outsider,
often prone to passionate if self-destructive behaviour.
Samuel McCord of
FRENCH QUARTER NOCTURNE
is a Byronic hero -
What makes a Byronic hero such as

Samuel McCord

so attractive?
On the surface, a hero who possesses negative qualities, such as moodiness, arrogance, and even a degree of malevolence, doesn't seem an obvious candidate for attraction.
Yet, these qualities, when combined with conflicting traits, like intelligence and sensitivity, can be precisely what makes him more appealing than a conventionally 'good' hero.
Good heroes, for all their virtues, can be perceived as a bit boring.
The tortured hero on the other hand, from Byron to Heathcliff to Edward Cullen to Samuel McCord,
all promise the kind of excitement many find irresistible.
While they aren't the most well-balanced of figures, their simmering passions and unfulfilled desires have the power to captivate and enthral.
Whether this power stems from some intrinsic need within us to nurture the troubled soul, or from something more basic doesn't much matter.
The fact is Byronic heroes are every bit as compelling now, as they ever were in the time of Byron. No doubt they will continue to fascinate us for a long time into the future.
WHAT CHARACTERS IN TODAY'S LITERATURE STRIKE YOU AS BYRONIC?
CAN FEMALE CHARACTERS BE BYRONIC?
IF SO, WHICH ONES WOULD YOU SAY ARE BYRONIC?