Concerning the difference between man and the jackass: some observers hold that there isn't any. But this wrongs the jackass.
- Mark Twain's Notebook, (1898)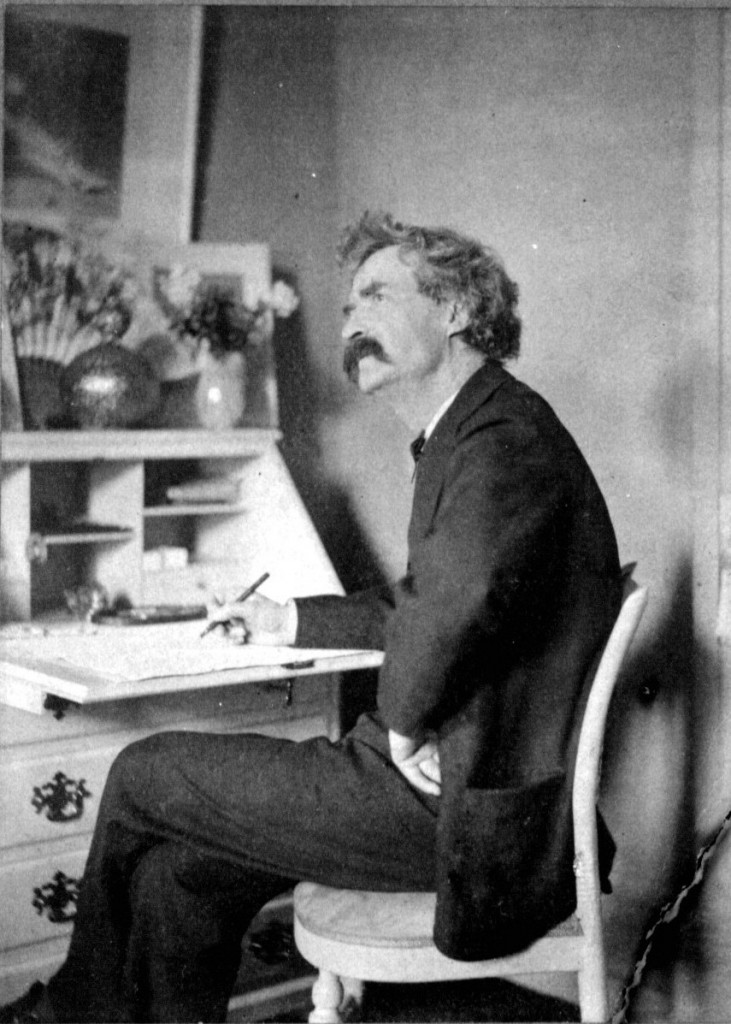 THE STARS BLEED AT MIDNIGHT was taking shape as I typed in Meilori's.
I was just on the verge of remembering Samuel McCord's exact description of Queen Oyggia's eyes that fateful 1895 afternoon in Cairo on the terrace of the Shepheard's Hotel
when the ghost of Mark Twain drawled,
"Roland, just how do you start off an application letter to a University these days, anyway?"
I sat back in shock. "You want to go to college?"
"Why how else am I gonna take a class in what you folks call Porn, of all things, and brace a bully, if I don't?"'
I squeezed the bridge of my nose. "You do this to me on purpose, don't you, sir?"
He happily fluffed out a newspaper and read:
"Feminist studies Professor Mireille Miller-Young is facing assault charges after an incident in the Arbor last Tuesday, March 4,
in which she took and allegedly destroyed posters depicting graphic images of aborted late-term fetuses displayed by members of Survivors of the Abortion Holocaust, a Riverside-based pro-life group."
"Taking the posters does seem a bit much, sir. But freedom of speech --"
Mark Twain said, "Don't include freedom to steal or to hurt. That professor left bloody scratches on the arm of a 16 year old girl who protested her property being taken away."
He snorted, "Move aside son. Let me at your laptop."
He busily tapped the keys, bringing the web page of Professor Miller-Young to the screen. "There! Look at the classes she teaches and what her PhD doctorate was on."
I read:
Areas of Study:
Pornography; Sex Work; Black Film, Popular Culture and Art; Feminist & Queer Theory; African American & African Diaspora Studies; Visual Archives; New Media; Ethnography; Oral History.
Dissertation: "A Taste for Brown Sugar: The History of Black Women in American Pornography."
I sighed, "That's not exactly a field of study that promises to make you much money, sir."
"Really, son? Look at who published her essays -- "
I read further:
'Dr. Miller-Young has written essays for The New York Times, Feminist Theory, Colorlines, Re-Public.com, Cut-Up.com,and $pread, a sex worker magazine.'
I frowned. "So you're against abortion?"
He knocked on the top of my head as if it were a door.
"Son, I reckon a gal's body is her own to do with as she pleases
-- but then, again the little unborn critter inside the gal don't have nobody standing up for her or his rights, does she now?"
"You mean fetus ..."
"That is a damn fool name for a human being, son. Sounds like some form of foot fungus, don't you know?"
"Well, sir, there's some that think that before 3 months the fe- --- (I saw Mark's scowl) ah, unborn critter isn't human."
"Well, what in tarnation is it? A Kumquat?"
I made a face. "So you want to go to this professor's classes to study Pornography?"
He flicked ghost cigar ash my way.
"Son, according to some critics I wrote it. No, I just plumb hate bullies. That Doctor set her students on girls that voiced opinions she disagreed with.
She snatched that poster away, using her position as teacher to tell her students that it was all right to steal, to taunt, and to bully folks who think different than you."
He sighed, "And smile while you do it."
Mark Twain grew sad. "As long as our institutions teach our children that, this sorry world will be washed in the tears of those without power."
"Roland, never be bullied into silence. Never allow yourself to be made a victim. Accept no one's definition of your life. Insist on defining yourself."
He squeezed my shoulders with fingers I almost felt. "The challenge of leadership is to be strong, but not rude; to be kind, but not weak; to be bold, but not bully;
To be thoughtful, but not lazy; to be humble, but not timid; to be proud, but not arrogant; to have humor, but without folly."